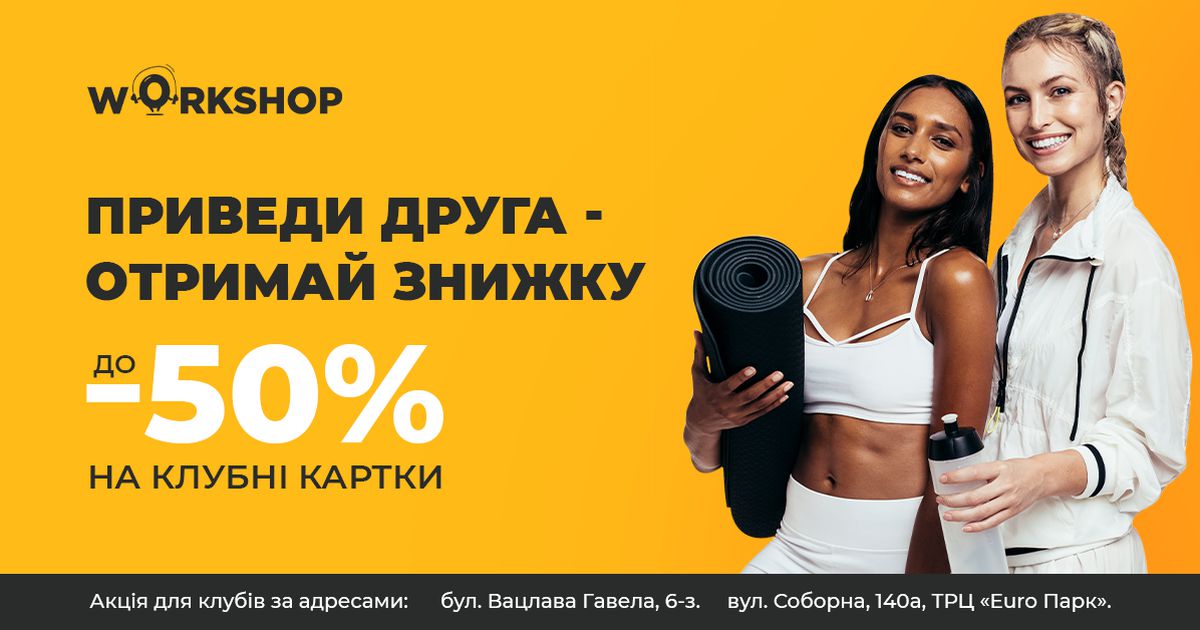 Only in October! 🍁 Offer of the month in WORKSHOP clubs at addresses:
📍 blvd. Vaclav Havel, 6-z,
📍 st. Sobornaya, 140a, "EURO Park" Mall.
"Bring a friend" * and get a discount on the purchase of TWO club cards :
1 year - 50%
6 months - 40%
3 months - 30%
* Valid on condition that one of the buyers is a new client who has not previously visited WORKSHOP or a client who has not visited the club for more than 1 year.
Discount prices for TWO club cards for WORKSHOP Vaclav Havel 👇🏼:
3 months • 3300 UAH + 3300 UAH = 4620 UAH
6 months • 5850 UAH + 5850 UAH = 7020 UAH
1 year • 9900 UAH + 9900 UAH = 9900 UAH

Discount prices for TWO club cards for WORKSHOP Sofia (Sofievskaya Borshagovka) 👇🏼:
3 months • 2800 UAH + 2800 UAH = 3920 UAH
6 months • 4800 UAH + 4800 UAH = 5760 UAH
1 year • 8800 UAH + 8800 UAH = 8800 UAH
❗️You can buy club cards for the promotion only offline in clubs❗️
Bring your friends and break into the world of sports with WORKSHOP! 💪🏼